Breadcrumb Navigation Importance for eCommerce Stores
January 25, 2019
Breadcrumb navigation has been a staple on websites for years now, especially for eCommerce stores. The best online shopping experiences provide a balance between a clean interface and getting a customer to the checkout page quickly. For the vast majority of online stores, the main goal is to get a customer to convert. However, visitors don't always enter your site through the homepage. They can enter through any page by finding it from doing a search, through a PPC (Pay Per Click) campaign, a link in a social media post or a blog. You have to be prepared for that.
Breadcrumbs and a Responsive Internet
In today's world of smartphones, it is important to keep in mind what content appears at the top. There isn't a lot of screen real estate on most mobile devices. However, Google still likes to see breadcrumbs to properly rank a product in search results. With this in mind, you should have a clear and concise structure for your products and categories so that the breadcrumb trail isn't too long and takes up half of the screen on a phone. Give potential customers other options for shopping if they land on a product page and don't want to purchase that particular product. They are more likely to still want to look for other products on your site.
Breadcrumb Navigation for Google and Your Customers
If you have an eCommerce store, visitors that don't already know about your site would most likely land on a product page by doing a search for something specific that they want to purchase. For example, if someone is planning a camping trip he/she might search Google for "2 person tent." This might lead that person to a tent on the Moosejaw website.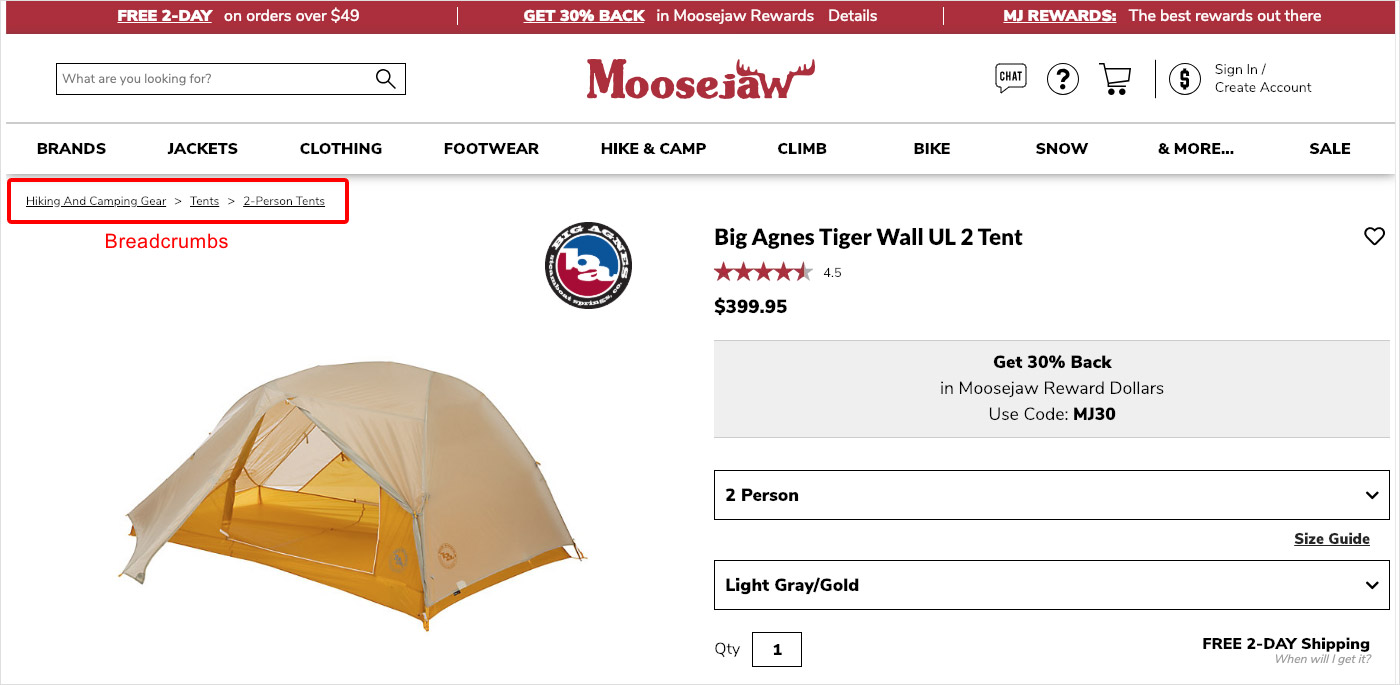 Notice that the breadcrumbs contain categories with very concise names. They tell a visitor exactly where they are on the site. If the visitor then decides to start looking around for other tents, they can simply click "2-Person Tents" to browse for more options. However, the more important aspect of this is that the breadcrumbs are telling Google exactly how to categorize this page in its search results.
There are many factors that go into creating a great online shopping experience. Being strategic with your store's category structure can significantly boost your Google search ranking. It can also provide your customers with the best shopping experience possible! This will lead to more return customers and increased revenue. If you'd like an assessment of your store's category structure contact Brand Labs now.
We can help take your business to the next level!