Our Process
Everything up front, laid out, transparent. No one dislikes surprises more than Brand Labs so we've created 'guardrails' to keep projects on track, partnerships growing and working collaboratively in 3 defining steps.
Unraveling the User Experience and functionality requirements upfront during the Discovery Phase.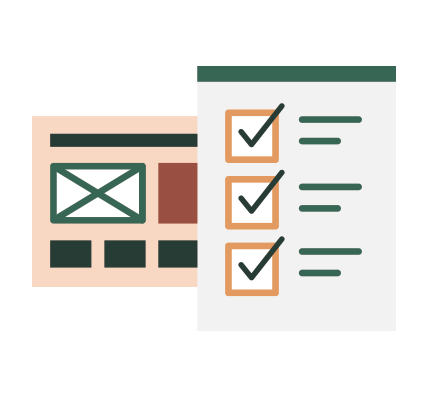 UX wireframes, detailed deliverables, project timeline and associated costs; providing you with your project "blueprint".
UX and functionality requirements unraveled upfront. 
Removing obscure deliverables to allow all parties, at all times, a full view of expectations through a Discovery Engagement Session that:
Understands, guides and defines website and team priorities through stakeholders sessions 

Defines strategic goals of the website, including sales targets and marketing goals

Gains competitor insights

Deep understanding of user stories

Identifies current and future tech stack needs

Uncovers desired front-end features and capabilities, like design elements, design of the purchase funnel, personalization, search capabilities and other features or content available

Investigates any fulfillment workflow and integration requirements
Project Plan and Proposal
UX wireframes, detailed deliverables, project timeline, and associated costs.
Providing you with a project "blueprint" of your website, which could include, but is not limited to:
Black & white UX wireframes of the home page and top navigation structure, category page and product page (and other pages as needed)

Documented design, creative and/or branding needs

Formal documentation listing functional requirements of the completed website development project

Functionality substitutions using apps or other market implementations

Planned integration points or third party responsibilities 

Current site performance and areas of improvement

Compliance needs [e.g. Americans with Disabilities Act (ADA)/Web Content Accessibility Guidelines (WCAG)]

SEO migration retention and technical SEO needs

Documentation of all URLs on the site

eCommerce platform recommendations, if a platform has not been chosen

Detailed Proposal:
Outlining the project phases to execute in detail

Providing the necessary hours by Brand Labs to complete the Website Design and Development Project

Estimating any additional costs required to support your Website Design and Development Project

Efficiently managing the timeline required to complete your Website Design and Development Project
With the hard work done upfront – complete discovery and planning – our design and development teams can do what they do best: bring your site to life with UX and functionality that avoid surprises.